What does "Nonjohn" mean? John "Nonjohn" Tennison The official Nonjohn motto

Welcome to nonjohn.com, the official website for music, video, commentary, and other creations by John "Nonjohn" Tennison.
John "Nonjohn" Tennison is a multi-instrumentalist and songwriter who writes music for the mind and the body. When playing Boogie Woogie, Tennison's left-handed ostinato juggernaut and right-handed pyroclastics create a contrapuntal, polyrhythmic, trance-inducing texture that takes Boogie Woogie piano places it has never been before. Because of his driving, high-energy Boogie Woogie grooves, Tennison has been called "The Texarkana Train." Harmonically and melodically, Tennison's music usually has a strong sense of tonality (musical key), and has been influenced by the melodies and phrasing of sources as diverse as Bluegrass and the classical music of India. However, Tennison also ventures into experimental and dissonant harmonies that might sound odd to some ears. Tennison's intense percussive style has been influenced by African, Arabic, Indian, and Samba drumming. "Fricking" (an acronym for FingeR pICKING) is the word used by Tennison to refer to his hammer-on style of solo guitar playing. Tennison's lyrics focus on social critique, timeless philosophical issues, and often have a satirical edge. Overall, the spirit of Tennison's music is conveyed by the freedom implied by the African Bantu word, "Mbuki Mvuki," which means to remove one's clothes in order to better dance or perform.
---
FAQ Bios & Philosophy Merchandise Calendar Bookings Contact Reviews & Awards Audio & Video Clips Photos Lyrics, Poetry, Quotations, & Other Writings
Print Media Archives The Boogie Woogie Foundation Fighting for Freedom Satirical Sideshow Recommended Websites
---
Texas Music: The Untold Stories: An Official SXSW Music Event
presented by Texas Monthly and ACL Live at the Moody Theater in Austin, Texas at 8 pm on Tuesday, March 17, 2020
Get Tickets Here! Official Press Release
---
The First Conlon Nancarrow Conference for New Music was held on Friday, September 27 and Saturday, September 28, 2019 at Texarkana College. See Poster for details.
James Greeson's excellent documentary on Conlon Nancarrow was shown on Friday, September 27; On Saturday, September 28, James Greeson and I will both gave presentations.
I presented some of my original compositions and discussed how they were inspired by Conlon Nancarrow. I also discussed Conlon Nancarrow in relation to Boogie Woogie.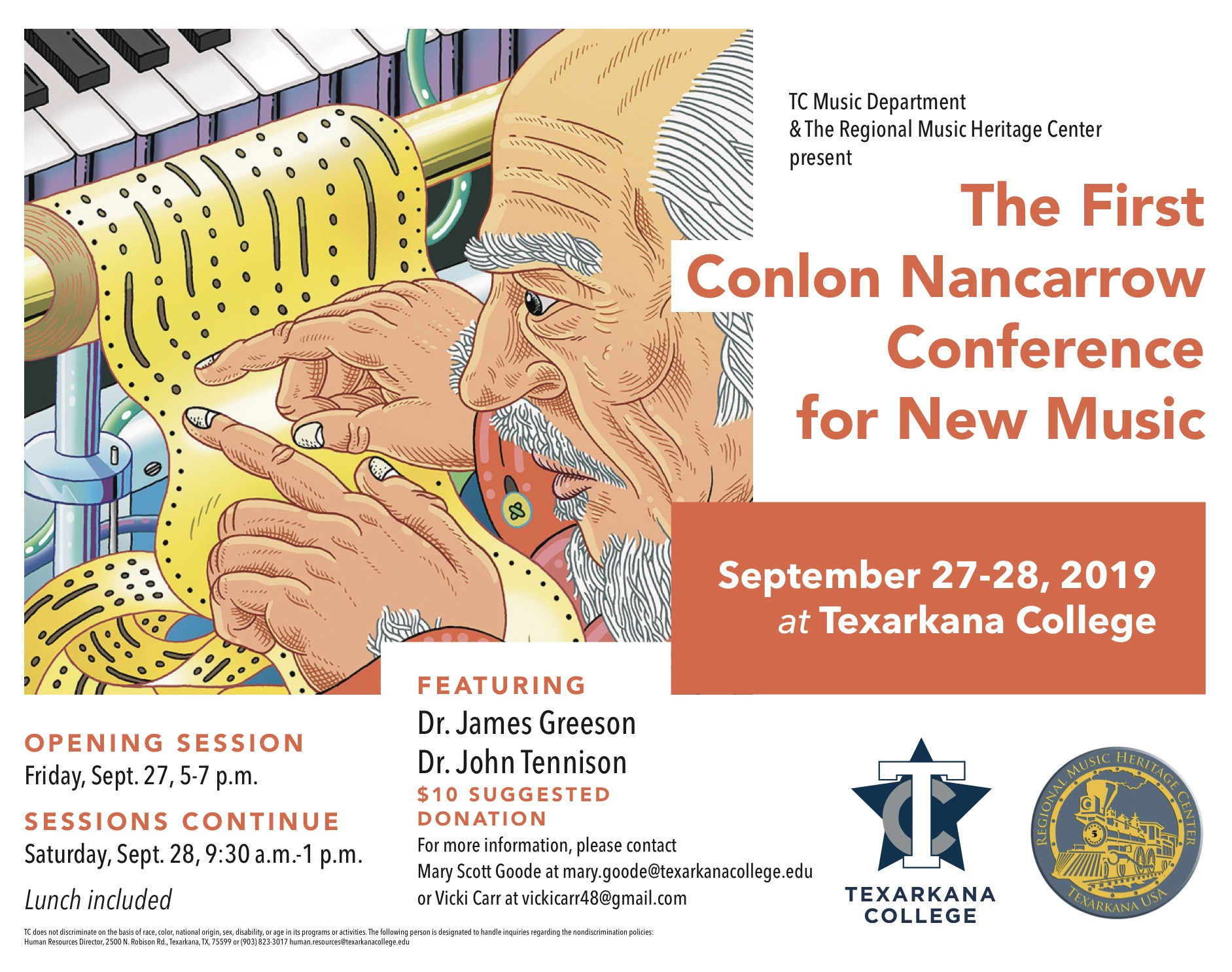 ---
John Tennison's PsychoBoogie Show: A performance from the cab of the Texas & Pacific Steam Locomotive 400
7:30 pm, Saturday, May 18, 2019, Marshall Texas, at Boogie Woogie Point (on the grounds of the historic Texas & Pacific Depot)
---
Texarkanon (Symphony for a Single Unprepared Piano), composed by John Tennison
World premiere of all 36 movements of the 17-hour symphony Free and open to the public
Midnight, Saturday, March 2, 2019 at Texarkana's Arkansas Municipal Auditorium YouTube Trailer
---
There was a formal dedication ceremony for the Texas State Historical Commission's marker celebrating Marshall, Texas as The Birthplace of Boogie Woogie
on Sunday, Sept. 2, 2018, at 2:00 pm at the northeast corner of the Ginocchio Hotel. The dedication ceremony for the historical marker was free and open to the public.
After the ceremony, John Tennison was joined by Icy Monroe, Rafael Espinoza, and Benjamin Cohen to present a concert and educational program titlled:
"Boogie Woogie: The Roots and Their Many Branches" The musical program explored the vast influence Boogie Woogie has had on diverse genres of music.
---
Early Music of the Texarkana Region: Jopplin & Others Before HIm
A Presentation by Dr. John Tennison, 2 PM, March 31, 2018, Museum of Regional History, Texarkana, Texas
Boogie Woogie was among many genres of music discussed.
---
2nd Annual Dreamhill Estates Concert was held Saturday, November 4, 2017, San Antonio, Texas.
---
Scott Joplin International Centennial Celebration -- with Boogie Woogie by John Tennison on Friday, March 31, 2017
The RMHC site noted: "John Tennison, the world's foremost authority on the origins and development of Boogie-Woogie, can be expected to provide world class performance of that music ranging from its earliest 1870s vintage to his own 21rst century invention of 'Quantonal' Boogie-Woogie. "
---
The premiere performance of the final movement of John Tennison's TEXARKANON (Symphony for a Single Unprepared Piano) occurred on Saturday, December 17, at 7:00 pm, at the Silvermoon Theatre, Texarkana, Texas. The final movement of TEXARKANON was among other pieces performed at the Regional Music Heritage Center's "Nancarrow Homecoming" concert. A recording of the whole TEXARKANON symphony (17 hours, comprising 36 movements) is available on flash drive. See below for the poster for RMHC's "Nancarrow Homecoming" concert.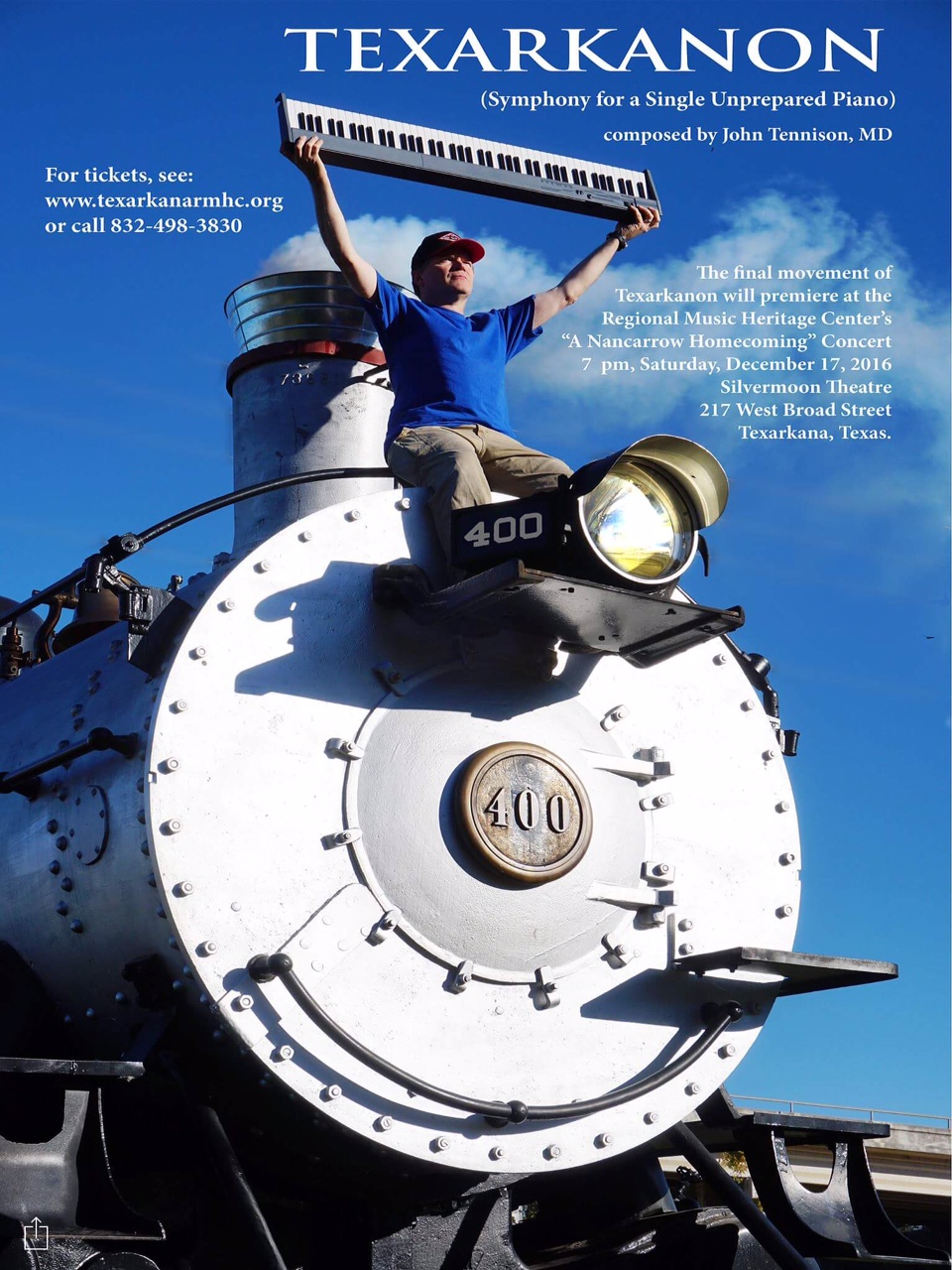 The Regional Music Heritage Center Presents Concert: "A Nancarrow Homecoming"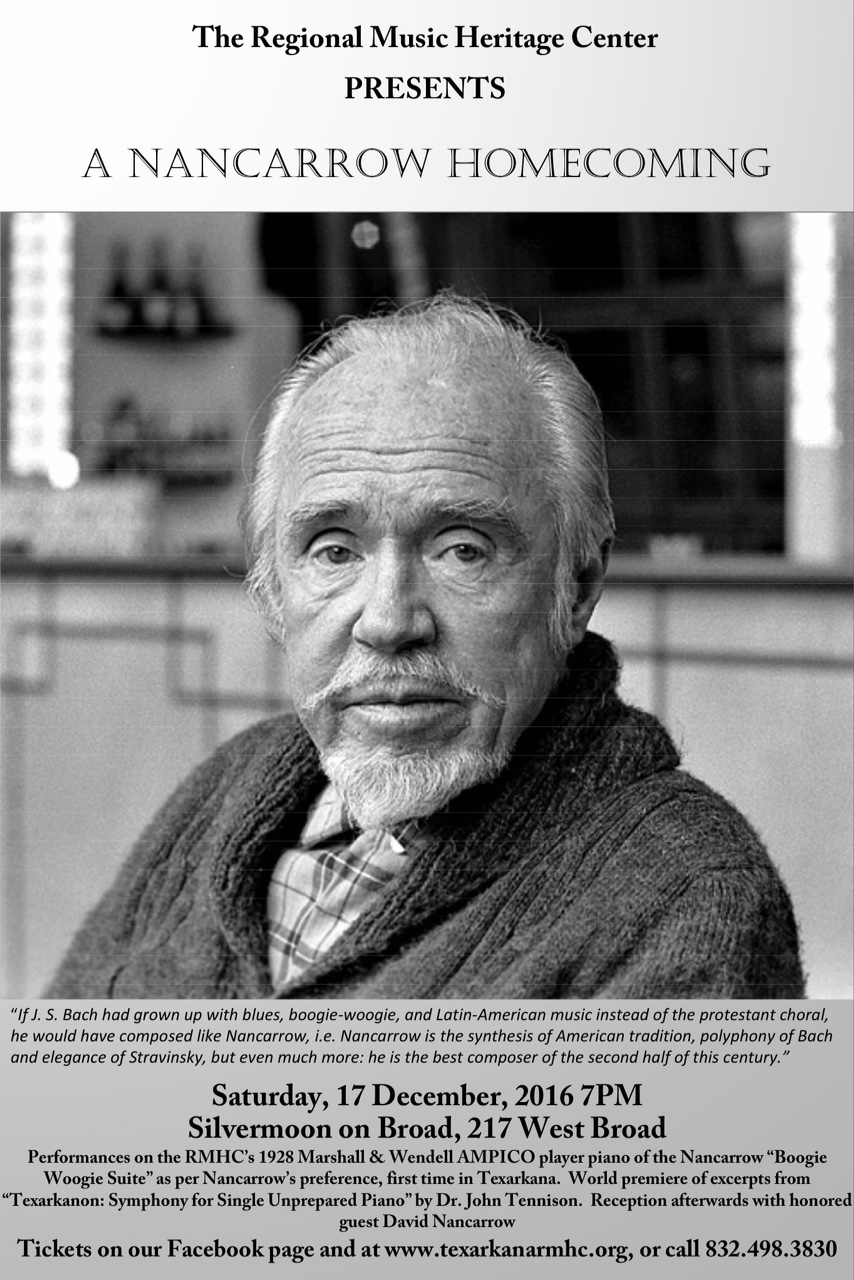 ---
Recent Public Performances:
Saturday, September 17, 2016, Union Station, Paris, Texas
Saturday, August 27, 2016, San Antonio, Texas
---
Improvisatory Boogie Woogie for Piano & Drums with John Tennison & George Buckner
8 to 10 pm, Saturday, August 29, 2015, Summerhill Winery, 4050 Summerhill Road, Texarkana, TX Phone: 903-792-9463
---
Friday, August 28, 2015, from 7:30 pm to 9:30 pm, at the Allen, Texas Public Library, 300 N. Allen Drive in Allen, Texas. For the first hour, Tennison gave a presentation on the history of Boogie Woogie. For the second hour, Tennison was joined by legendary drummer, Sugar Boy Meyers.
PRESS RELEASE by Tom Keener the for August 28, 2015 History Talk and Concert:
"Among its more unusual bragging rights, Texas can lay claim to being the birthplace of Boogie Woogie music. At 7:30 pm Friday, August 28, Boogie Woogie fans can learn more about the origins of this Lone Star State music phenomenon at the Allen Public Library.

Fasten your seat belt when John Tennison and Sugar Boy Myers take the stage to lay down high-energy Boogie Woogie grooves. Tennison performs Boogie Woogie on piano and will be accompanied by Sugar Boy Myers on drums. Sugar Boy played for the Freddie King band and accompanied Eric Clapton, Leon Russell and other iconic legends.

Logging camps were located throughout the piney woods of East Texas and piano players moved from one camp to another. On a recent National Public Radio interview, Texas native musician and musicologist John Tennison explained that piano players moved on board the Texas and Pacific Railroad. Tennison states, "Oral histories indicate Boogie Woogie was first played in the early 1870s. Marshall, Texas, was at the geographical center of gravity where Boogie Woogie first came into existence, largely due to the area's large African American population and Marshall's location as an important railroad center in the early 1870s."

By no later than 1899, Lead Belly had heard Boogie Woogie bass figures being played on piano, and adopted these bass figures in some of his own guitar playing. The American public started to take notice of this musical genre during Carnegie Hall concerts in 1938, and in the 1940s, Glenn Miller, Andrew Sisters and Tommy Dorsey introduced Boogie Woogie to a new generation. Boogie Woogie later influenced a huge number of blues and rock musicians such as Chuck Berry, Fats Domino, Little Richard, and Jerry Lee Lewis. Thanks to Tennison, U.S. Highway 59, that runs across east Texas from Houston to Texarkana, is often referred to as the "Boogie Woogie" highway.

Tennison located an important Boogie Woogie pianist named Omar Sharriff in California in 2010; Sharriff had grown up in Marshall, Texas as David Alexander Elam. Tennison's discovery prompted the people of Marshall to bring Sharriff back to Texas. He lived in Marshall and performed at several acclaimed concerts and events, until his passing in 2012.

The library is located at 300 N. Allen Drive in Allen, Texas. Call 214-509-4911 for more information."
---
7:30 pm, Saturday, May 16, 2015, Marshall, Texas, from the cab of the Texas & Pacific 400 locomotive, which is on the grounds of the historic Texas & Pacific Depot in Marahall, Texas. This concert is for a special cause of raising funds for the Texas & Pacific museum, which is located inside the historic depot. Please join us for this important cause.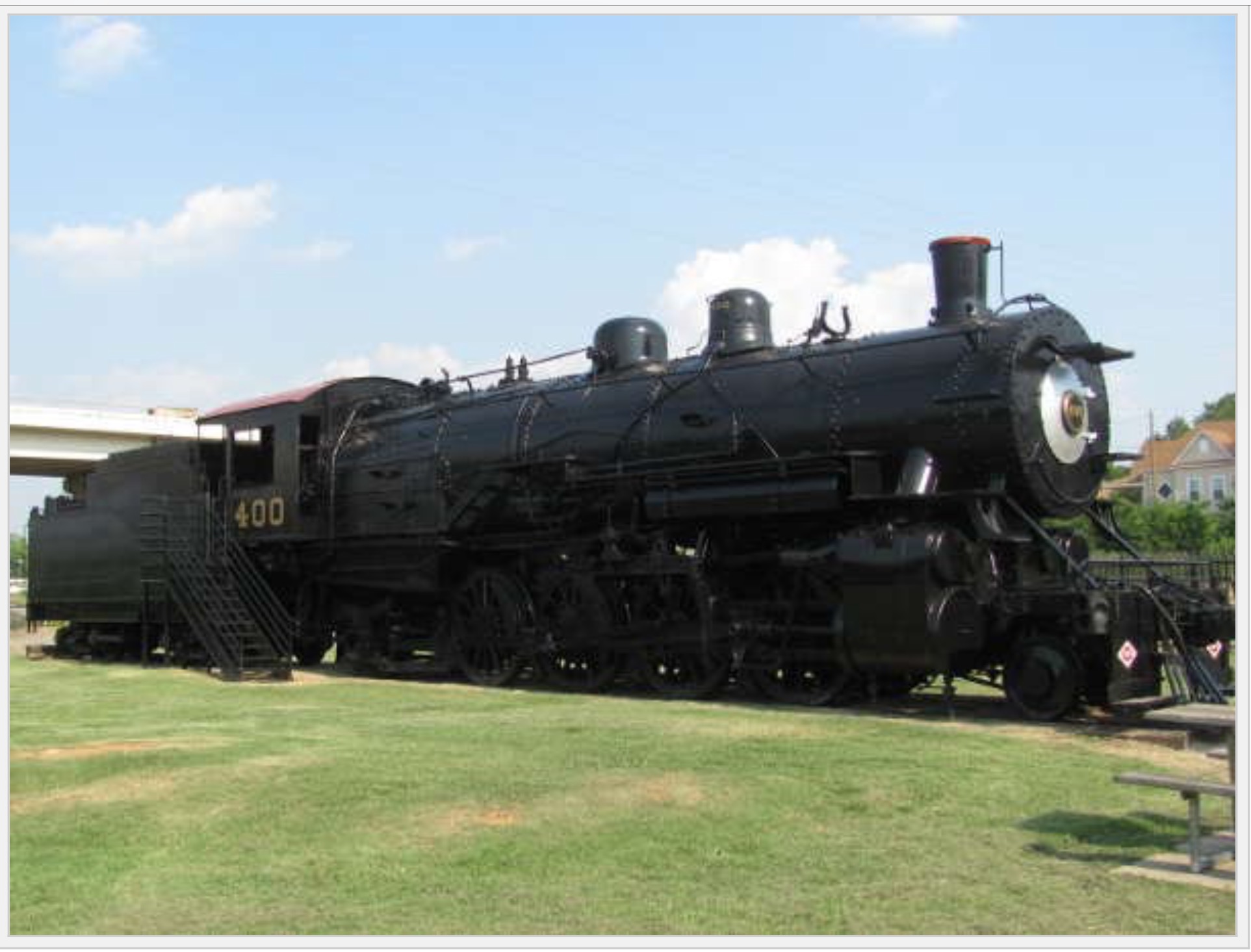 First Public Peformance of 2015 - 8 pm, March 21, 2015 in the Texas Hill Country

YouTube Video from John Tennison's performance at the Boogie Woogie Benefit Concert for Omar Sharriff in Marshall, Texas on March 24, 2012
John Tennison's YouTube Channel -- New Videos Uploaded October 20, 2010
---
Free Music Downloads
Emergence - Nonjohn's 1993 neo-classical piano dance piece MP3 Audio & Lyrics for Nonjohn's satirical single, "Texas Revelations"
---
Other Video Clips
Nonjohn Jazz - Video Clip of Nonjohn playing Boogie Woogie on his 1918 Knabe 6-foot Grand
World's Largest Operating Steam Locomotive - Video footage of Union Pacific 3985 captured by Nonjohn on June 17, 2004. This and much more footage of Union Pacific 3985 is contained on Nonjohn's "Texarkana Train Chase" DVD (See Forbidden Fruit Films.)
Video clips from Nonjohn's Barrelhouse concert: Boogie Woogie -- Live Boogie Woogie improvisation Emergence - Live Performance
Nonjohn performs Boogie Woogie in international waters aboard "Ecstasy" superliner on 12- 6-04. "Unbelievable!" says Larry Garlutzo. See Video Clip.
---
"Improvisatory music and dance are the purest forms of worship." -- Nonjohn "There are no 'wrong' notes, only 'wrong' intentions." -- Nonjohn "I don't have ideas. Ideas have me." -- Nonjohn
"In science, you have to deal with figuring out and being constrained by what is 'true' and what is 'false.' In art, everything is 'true.'" -- Nonjohn
---
The First Boogie Woogie Heritage Fest was held in Marshall, Texas on April 12 & 13, 2013
Festival performers included Axel Zwingenberger, Lila Ammons, Eden Brent, John Tennison, Christian Dozzler, The Jive Jumpers, and The Ryan Allgood Dancers.
---
2012 FireAnt Festival, Marshall, Texas
---
Performing at the Boogie Woogie Benefit Concert for Omar Sharriff in Marshall, Texas, on March 24, 2012
---
Performing at Antone's in Austin, Texas on March 22, 2011 at the Tribute for Pinetop Perkins, who passed away the day before, March 21, 2011: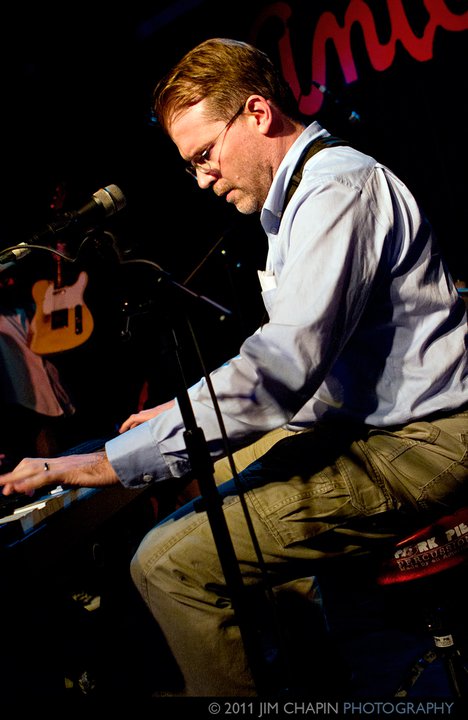 ---
FireAnt Festival, Marshall, Texas, October 9th, 2010: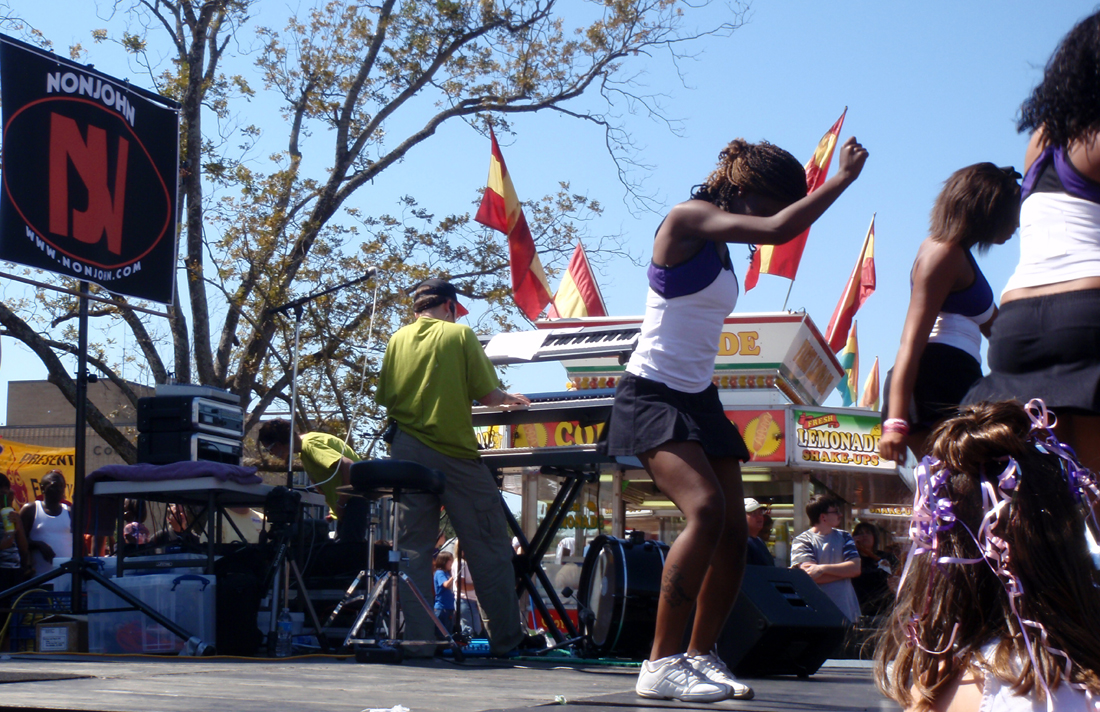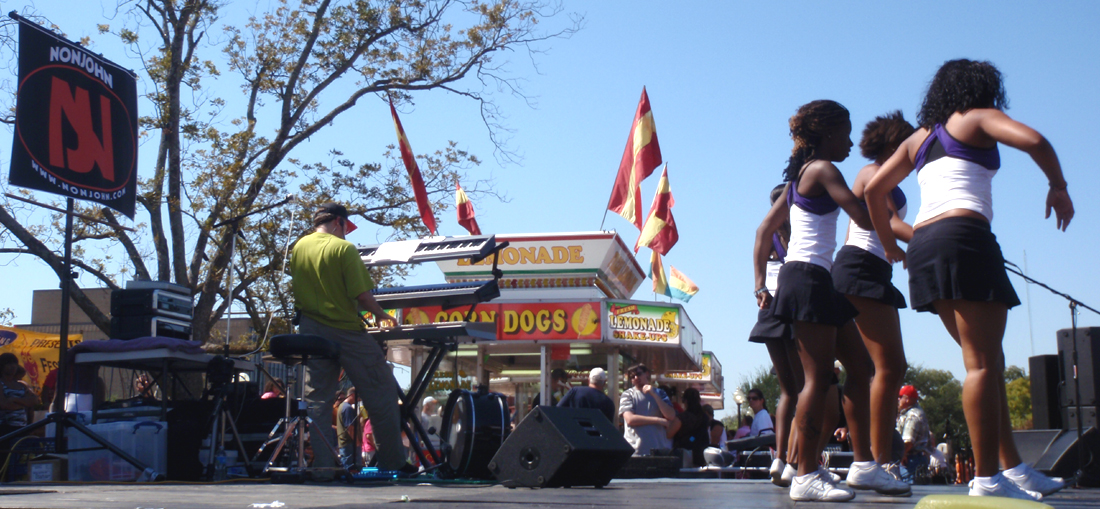 Thanks to the Wiley College Cheerleaders for their great, energetic improvisatory dancing!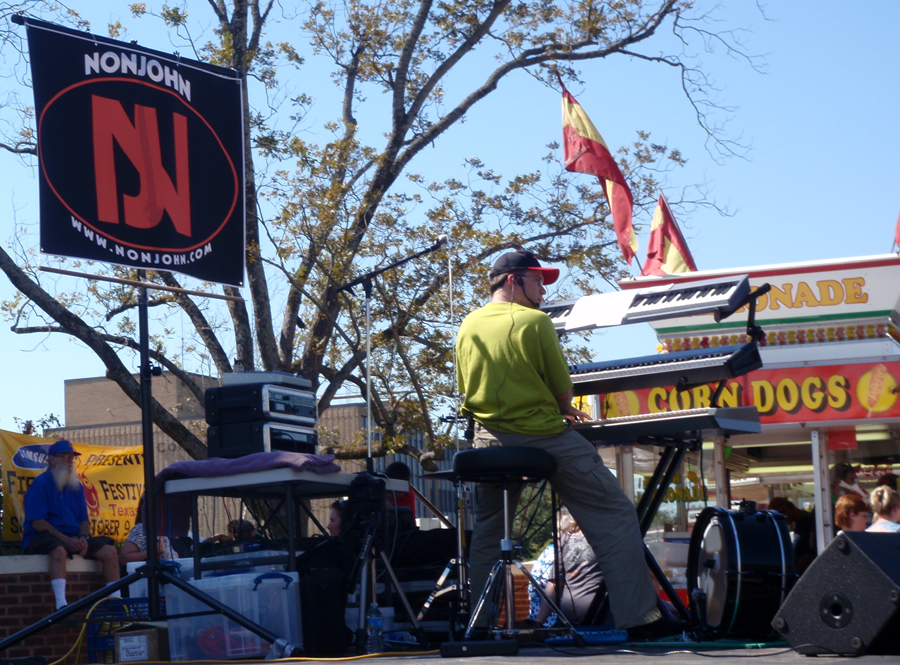 Above: Playing Boogie Woogie piano, hi-hat, and bass drum
Above: Harrison County Courthouse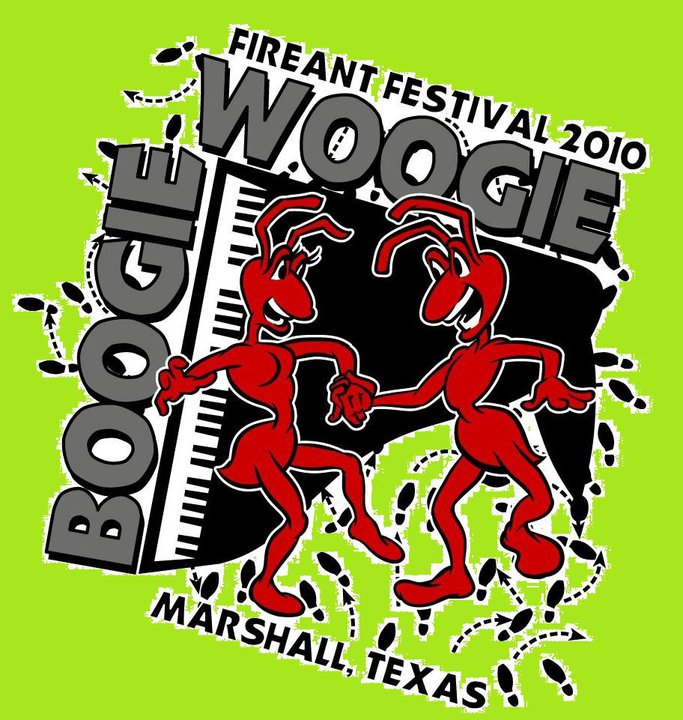 ---
Nonjohn playing Boogie Woogie at the Three Oaks Bed and Breakfast in Marshall, Texas, on Sunday, October 10, 2010
---
Other Recent Public Performances
Yale Hotel, Vancouver, British Columbia, September 14, 2009: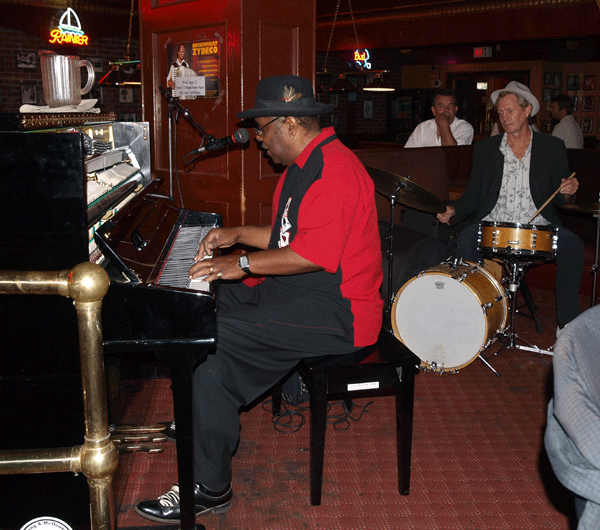 Kenny "Blues Boss" Wayne hammers out some Blues and Boogie Woogie.
Diana Braithwaite sings the Blues, accompanied by Chris Whiteley and Kenny "Blues Boss" Wayne.
Chris Whiteley, Diana Braithwaite, dancer/actress Jeni LeGon, Frank Clavell (Jeni's husband), Kenny "Blues Boss" Wayne, and Nonjohn (AKA John Tennison)
---
Nonjohn Performing Boogie Woogie at Skyward Lounge on April 11, 2009, Texarkana, Arkansas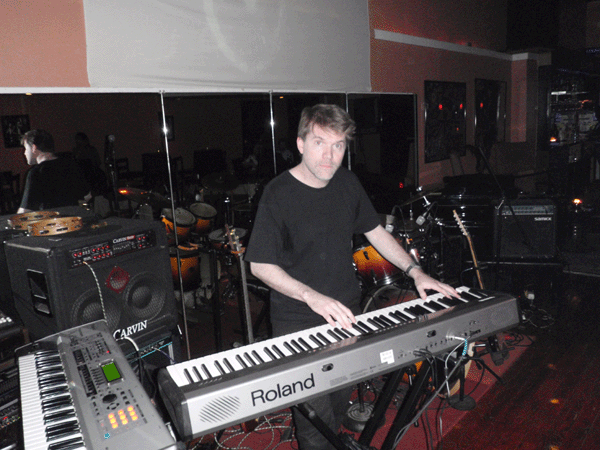 ---
Nonjohn Performing Boogie Woogie at The Big Easy on April 12, 2009, Texarkana, Arkansas
---
Nonjohn and Axel Zwingenberger at Axel's Bosendorfer Grand Piano in Vienna, Austria, April, 2006
Axel Zwingenberger is among the most prolific and influential of modern-day performers, composers, and scholars of Boogie Woogie.
---
Nonjohn Performing on the Water at the International Boogie Woogie Festival in Lugano, Switzerland, April, 2006
---
All content and associated files on the Nonjohn website: Copyright 1984-2012 by John "Nonjohn" Tennison. All Rights Reserved. Unauthorized duplication or distribution of material from this website is a violation of applicable laws.
On the World Wide Web since 1995! Website last updated by webmaster, Bill Scribner, on March 14, 2012.