Photos from the 2005 Community Music Festival in San Antonio, Texas, Saturday, October 22, 2005
---
Nonjohn wears his signature "NJ" surgical mask and "Sun Day Afternoons" hat while playing guitar.
---
Nonjohn performs "Fear is a Road Sign," a piece he wrote to commemorate the 60th Anniversary of the First Unitarian Universalist Church in San Antonio, Texas on October 22, 2005.)
Lyrics to "Fear is a Road Sign"
---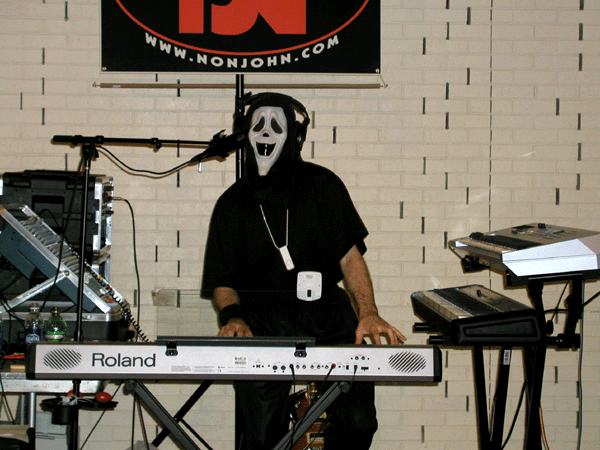 An audience member (who perhaps had watched a little too much Lawrence Welk or Liberace) once told Nonjohn that he didn't "smile enough" when playing Boogie Woogie. In response, Nonjohn decided to wear this mask (from "Scary Movie") so as to have a fixed smile as seen by performers of sterilized versions of Boogie Woogie and Ragtime. Both hands like the Devil, baby!
---