Nonjohn Critiques, Reviews, and Awards
---
Marshall News Messenger, March 15, 2012, in article titled, "For the love of Omar Musicians from across state, nation to take part in benefit for Omar Sharriff"
"Special guest guitar sensation Wes Jeans and Boogie Woogie wizard John Tennison will join Omar's Band of Brothers. Vocalist/drummer Anthony G. Parrish will lead a 12-piece dance band and the grand finale will feature the entire cast jamming on several of Omar's original compositions, including 'Fingers of Fire.'"

"Many who attended the funeral service at the Marshall Convention Center on Jan. 14 were surprised when Dr. John Tennison, after delivering a eulogy, sat down at Omar's keyboard, and launched into a rousing Boogie Woogie tour de force. Although he is a practicing psychiatrist and well-known music historian, Tennison is also a top-rank Boogie Woogie piano player and composer whose 'wild man' domination of the keyboard belies his reputation as a scholar and medical doctor."
---
"I listen to a lot of different kinds of music and I really am blown away by your music and playing." and "Thanks for all that you are doing to bring this great music forward into the 21st century!" -- Liz Clare, Author, Austin, Texas, January 30, 2012

"John, I found your videos on YouTube and your playing is amazing. I was googling to learn about barrelhouse piano after reading a historical marker, and I am in love with boogie-woogie now." -- Liz Clare, Author, Austin, Texas, January 27, 2012
---
Memorial Tribute Ceremony for Omar Sharriff in Marshall, Texas, Saturday, January 14, 2012
"The final musical number....it could only be Boogie Woogie. And we can't think of a better person on Earth to come play the final Boogie Woogie tribute to Omar than Dr. John Tennison." -- Jack Canson, Marshall, Texas, January 14, 2012.
"The musical tributes were some of the best I've seen this whole year, especially Dr. John Tennison playing the old boogie woogie and Wes Jeans' speech about Omar's life." -- Terri Richardson (of the Marshall News Messenger newspaper), posted on the "Marshall Critic" FaceBook page, January 14, 2012.
"You were amazing on that piano!! I enjoyed hearing you play so much." -- Diane Jones, Marshall, Texas, January 14, 2012.

"You ROCKED on that keyboard. Omar was surely proud of you!" -- Jim King, Photography and writer, on Facebook, January 17, 2012
"I heard these words at the funeral service, but very glad to see them here in print, as I'd hoped to see them preserved. A finer man to say them, or articulate enough to express it all, I don't think is available. Thank you, Sir! You have done something in all these matters, to give honor where it is due to the person and legacy of Omar Sharriff, that would be hard to match. Your final tribute by playing that Boogie Woogie piece on the piano, with such fine accompaniment that also accompanied Omar, was the highlight of my day! I sure hope to hear more, if the City of Marshall might inquire of you and the others, to continue on with some public showings. This would be my wish!" -- Bill English, Marshall, Texas, January 17, 2012. (Mr. English is reflecting upon both the re-printed comments that had been made by John Tennison at Omar Sharriff's memorial tribute, as well as the Boogie Woogie performance by John Tennison and other musicians at the memorial tribute.)
---
"John Tennison is the real deal." -- Marcia Ball, September 24, 2011, Sam's Burger Joint, San Antonio, Texas
Pictured above is John Tennison and Marcia Ball after Marcia's performance at Sam's Burger Joint in San Antonio, Texas on September 24, 2011.
---
"Human consciousness, and how the human brain works and why is far beyond my limited knowledge. But I think of these mysteries when I hear someone like you play a piano. There are any number of other piano players in other genre that bring to mind the same mysteries. Art Tatum as improvisationist, Liszt as a composer and performer, and Horowitz as an interpreter, for example.

Anyway, John, you have a wonderful talent. Your remarkable ebullient style of playing makes people feel good. Feeling good is a good thing." -- Thomas Chapman, August 15, 2011
---
"John Tennison doesn't just tickle the ivories. He f--k's the sh-t out of that piano!" -- Magnolia Shorty, New Orleans Bounce Rapper, March 20, 2010, Austin Texas
---
From Nigel Blamey, Professor of Geochemistry, New Mexico Tech University, February 17, 2010:
"John Tennison is no ordinary piano player. His boogie woogie piano style is blistering hot and he plays it with an energy that is unrivaled."
"Both hands like the devil" is a classic example of John's smokin' boogie woogie style and here is a musician who will go down as one of the leading boogie woogie greats."
---
An Article by Jack Canson in East Texas Towns Online, January 25, 2010:
MARSHALL, TEXAS -- BIRTHPLACE OF BOOGIE WOOGIE
By Jack Canson
---
One of the most significant developments in American musical history is the invention and emergence of a style of piano playing that came to be known as "Boogie Woogie."
No one even casually acquainted with the history of American music discounts the importance of the Boogie Woogie style of playing on popular culture. The musical forms that have evolved from Boogie Woogie have spread across the world, influencing countless thousands of performers and many millions of fans. Most people are aware of the influence of Blues music on Rock and Roll. But perhaps most are unaware that the true father of rock is Boogie Woogie.
Think about Chuck Berry, Little Richard, Jerry Lee Lewis, Ray Charles -- to name but a few. Listen to their earliest recordings and you realize how much of rock and roll comes from Boogie Woogie.
And Boogie Woogie comes from Marshall, Texas.
Proof of Marshall's claim to be the birthplace of this significant musical development can be found in the historical record that has been compiled with citations and contributions going back a century.
Recently, much of this information was brought to the attention of various Marshall officials and music lovers by an amazingly accomplished performer and player of Boogie Woogie piano who calls himself "Nonjohn."
Nonjohn is the name adopted by a gifted Boogie Woogie piano player who was in Marshall earlier this week to make presentations to various City of Marshall officials, including Mayor Buddy Power and CVB Chairman Steve Carlile. He then performed at Blue Frog Grill, accompanied by two very talented drummers from Marshall. It was terrific entertainment, enjoyed by an eclectic group of people that included many couples who just happened to be in the Blue Frog to dine and had not expected live music.
Watching Nonjohn perform is an unforgettable experience. He is one of the best keyboard artists you are likely to see, and sometimes while playing Boogie Woogie he pushes away his stool and dances behind the electric piano with abandon.
Music is a tough business. Many very accomplished musicians have to rely on day jobs for survival. But it is unlikely that anyone seeing Nonjohn hammering his way through the Boogie Woogie canon would suspect that his day job places him in one of the elite wings of the medical community -- psychiatry.
Nonjohn is also known as Dr. John Tennison, a medical doctor and psychiatrist in San Antonio, Texas. In addition to being an accomplished performer, he is also a devoted and serious musicologist and one of the leading experts on Boogie Woogie.
Dr. Tennison maintains two websites that anyone interested in this fascinating chapter of American musical history -- and Marshall, Texas history -- will find as informative as delightful.
One is: http://www.bowofo.org/ a website titled "Boogie Woogie: It's Origin, Subsequent History, and Continuing Development."
The other is: http://nonjohn.com/ and it is a more personal website that is a trove of interesting information, comments, observations and resources about Boogie Woogie, of course, but many other facets of Dr. Tennison/Nonjohn's expansive philosophical and musical interests.
Within a few days, an extensive presentation of the historical facts that prove Marshall's claim to being the birthplace of Boogie Woogie will be presented on EastTexasTowns.com and other websites. A Facebook Page "Marshall Texas Birthplace of Boogie Woogie" is now under construction.
For now, let's just say that there has never been any argument that Boogie Woogie erupted almost spontaneously in the Piney Woods of East Texas. It has long been recognized that the genre migrated from its point of origin via the railroads. Based on its history as a railroad town, going back to one of the first railroads built in Texas from Swanson's Landing to Marshall, no community in the state has a stronger claim to be the birthplace of Boogie Woogie.
With the assistance of Dr. Tennison, great care is being taken to produce a factually accurate report that examines the chain of evidence that establishes proof that Marshall and Caddo Lake are the seminal influences on this revolutionary style of piano playing.
Stay tuned to EastTexasTowns.com for the next chapter in this exciting story.
The article above is reprinted from the East Texas Towns Online website. There are also photographs of the January 18, 2010, performance at the Blue Frog Grill at the East Texas Towns Online website.
---
"Nonjohn's hands move faster than my mind can think." -- Jim Chesnut, Nashville recording artist, October 13, 2007, San Antonio, Texas
"Vigorous and inclined to excite the crowd to a height of joy!" -- Mack McCormick, Music and Cultural Historian, December 23, 2006, Houston, Texas
"You're talent was most appreciated by myself and numerous others!" -- Rick Henderson, world-music recording artist, (October 17, 2006, in response to Nonjohn's performance at San Antonio's 2nd Annual Fall Music Festival, presented on October 14, 2006)
"You play so fast, and with such energy! I was inspired to dig out some old Commander Cody and the Lost Planet Airmen albums to hear some more boogie woogie, but they sound slow compared to you. I also found some similar pieces in our 78 collection, some by Albert Ammons, Hadda Brooks, Camille Howard, Frankie Carle, and of course a couple by Tommy Dorsey. But none hold a candle to you, sir!" -- Donna Musselman, Marshall, Texas, Three Oaks Bed & Breakfast, August 6, 2006
"Both Hands Like the Devil..........beautiful!" -- (in response to hearing Nonjohn's Boogie Woogie piece, "Both Hands Like the Devil") -- Robin Bachynski-Powell, May 2, 2006
"Your Concert in Lugano was very great!" -- André Sidler -- Jazz, Swing, Boogie, & Blues Pianist, Lucerne, Switzerland, April 23, 2006.
"The morning that John Tennison played during our worship service was the most excited I've seen our congregation get. It was amazing." -- Stanna Welch, member, First Unitarian Universalist Church, San Antonio, TX, October 20, 2005.
---
"John is a practicing psychiatrist and musician. As 'Nonjohn' he is ever immersed in the emotive music he performs and composes; as John Tennison, M.D. he is a scholar and a scientist in all he does. In a profound sense, the two men mesh."
"I'm hoping that with this introduction, he will move into the writers' community, sharing logical, almost Hegelian commentaries on what some very bad people are doing in our names. He's the guy that the far right has trouble picking on. He's a son of the American Revolution and coming from an old, conservative, extremely patriotic family, he graduated first in his class of 429, has been the recipient of numerous accolades over the years, including a D.A.R. award for citizenship, graduate of Johns Hopkins, graduate student in music, and graduate of Stanford Medical School. As one of the finest musicians I have ever known, he performs and composes under the name 'Nonjohn,' while he works fulltime to disprove Tom Cruise's cynicism of psychiatry by helping people survive serious illnesses through the scientific practice of psychiatry."

"Unlike many physicians, he does not let fear of damage to his professional name stop him from saying what is often unpopular in Texas. On the Fourth of July in 2004, John wrote: 'Many modern-day celebrations of the 4th of July have been corrupted into celebrations of militarism, rather than being celebrations of personal freedom. To remember the real meaning of the 4th of July, we need only read the Declaration of Independence.'"
-- Leigh Saavedra, writer, activist, former arts columnist, teacher, and author of two books, July 9, 2005
---
Nonjohn performs Boogie Woogie in international waters aboard Carnival's "Ecstasy" superliner:
"Unbelievable!" -- says musician, Larry Garlutzo, December 6, 2004. See Video Clip.
---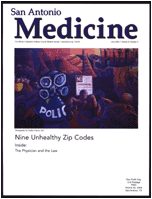 In San Antonio Medicine's feature article about Nonjohn, titled "Boogie Woogie Man," the "prevalent sensation" of Nonjohn's Boogie Woogie music is said to be "sheer exuberance." (Page 27, July, 2004, Volume 57, Number 6).
To see the full article, contact www.bcms.org to obtain a copy of the July, 2004 (Vol. 57, #6) issue of San Antonio Medicine.
---
Regarding the Nonjohn website:
"I'm just amazed at it all." -- Christopher Wallace, M.D., University of Texas Health Science Center, San Antonio, May 1, 2003
"A visit to his web site, www.nonjohn.com, is a bit like following Alice down the rabbit hole." -- Luanna Crow, San Antonio Medicine Magazine, July 2004, Vol. 57, #6
---
Regarding the Boogie Woogie Foundation Website:
"Some of the best information on Boogie Woogie and its origins can be found in a website established by John Tennison, also known as 'Nonjohn,' who is planning a book on the subject."
-- Henry Wolff, Jr., Victoria Advocate, September 21, 2005.
---
From the Johns Hopkins News-Letter in a Review of the 1990 Johns Hopkins Musical Showcase:
"The overall winners, a trio calling itself the Dust Tracks Blues Ensemble, performed an original blues composition that fell into a good groove at the outset and never left. Keyboardists John Tennison (who performed a solo concert last year in Shriver Hall) and Jeff Carpenter managed to coax what sounded like a five piece band out of two synthesizers, and singer Lana Boter filled the hall with a powerful and very appealing vocal." -- Christopher Bonanos, Johns Hopkins News-Letter, April 13, 1990
---
From the Johns Hopkins University Gazette in a Review of Nonjohn's "Keys to Success" Album:
"....students who have heard him play have used words like 'awesome' and 'incredible' to describe his off-the-wall style of music. So, for at least the next several years, Hopkins students will be treated to the high-tech sounds of John Tennison and a handful of other 'synth' practitioners like him. As one freshman said, 'You just gotta hear it for yourself.'" -- Evan Chuck, John Hopkins University Gazette, 1986
---
From the Texarkana Gazette:
"Tomorrow these hands will remake reality. But that's tomorrow. Right now, they are dancing. Across an electronic keyboard they break, sending up one synthesized symphony after another. Without missing a step, they lead the plastic ivories bam-booming into rock fireworks." -- Robert Kerr, Texarkana Gazette, Page 1C, Sunday, July 13, 1986
"It was probably inevitable that man would one day move from substance to concept, from the finite to the infinite. Making music without instruments. Making reality without matter. We approach a day where we take for granted that nothing is what it seems, where believing the world is tangible will be as antiquated a notion as believing it is flat. John Tennison will while away one more summer shaking the walls of his grandmother's living room with his new music. Then he, and others like him, will go about their business, shaking the foundations of civilization." -- Robert Kerr, Texarkana Gazette, Page 1C, Sunday, July 13, 1986
---
President's Commendation for Achievement in the Arts Award: May 22, 1990: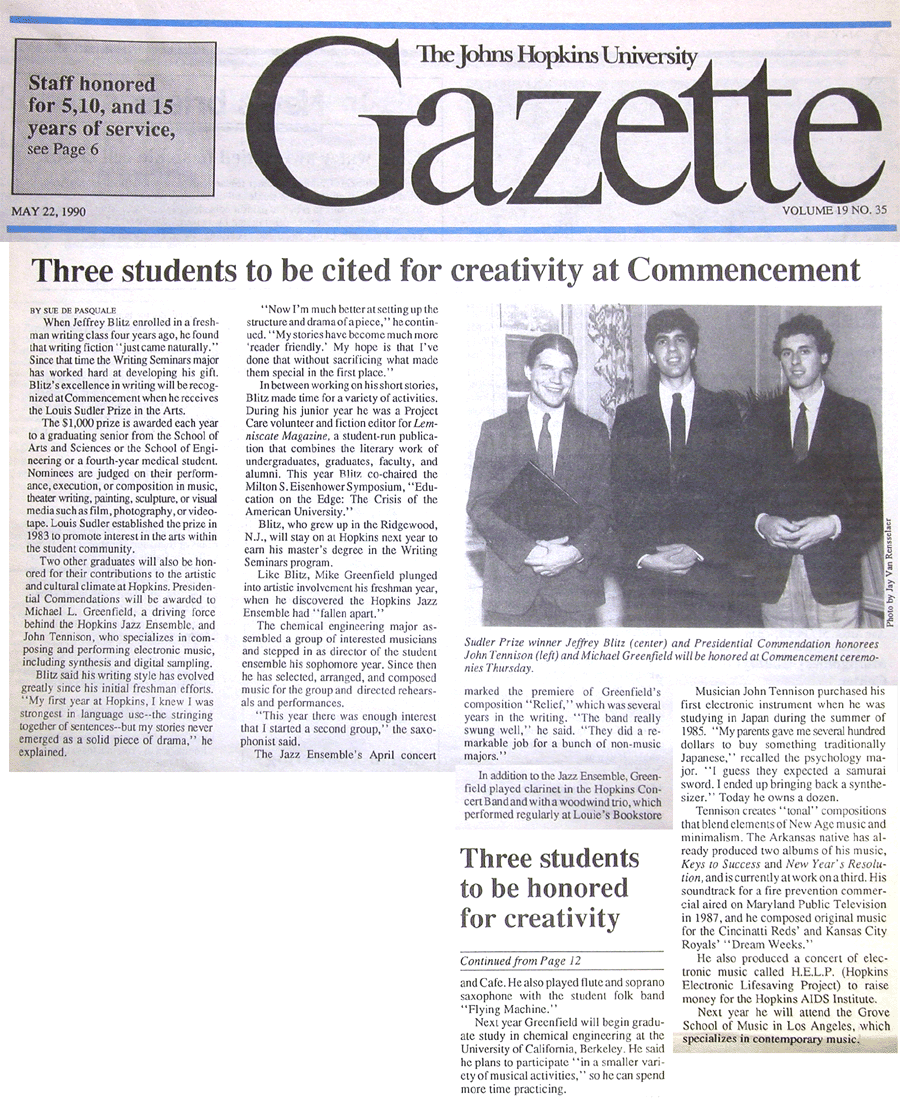 Tennison received the award above for his original musical and theatrical works, including his dramatic role as the "Clown" in the "Funk You" Concert, performed in Baltimore, Maryland.
---
"Outstanding Musician" Award, 1983 - Kindler Memorial Concert
---
"One Act Play All-Star Cast" Award, 1983 - for his role as the father/bus driver in Thornton Wilder's one act play.
---
"Ranatra Fusca" Creativity Award, April, 1984 - for his role as Winston Smith in a dramatic production inspired by George Orwell's 1984.
---
Johns Hopkins Musical Showcase, Baltimore, Maryland -- Overall Winner - 1988 - for the performance of original music compositions
---
Johns Hopkins Musical Showcase, Baltimore, Maryland -- Overall winner - 1990 - for the performance of original music compositions
---